By Stacey Cochran
Thanks so much, Anthony, for letting me guest blog at Writing is About... I am currently in the midst of a
45-Day Blog Tour
to promote my new novel
CLAWS
, and I need all of y'all to head over to
Amazon
, buy a copy, and write a review. That, more than anything else, will support the success
of this book.
Which leads me to the topic of my guest blog here today:
Ten Things Every Writer Can Do to Ensure the Success of His/Her Book
1) Edit the Hell out of It. This should be the first step after completing your manuscript. My usual timeline is to spend about 3-6 months after the first draft is done, revising and tinkering to make sure I've got it as tight as can be. Then, I put it in front of my critique group.
2) Join or Create a Critique Group. I organize the 1000+ member group
Raleigh Write to Publish
,
which hosts dozens of events for local writers every month. In addition to this large group, I also belong to a small "workshop" group that meets every couple of months to knock around one another's latest works in progress. Not every writer works well in a group like this, but I've found the feedback (and accountability) of having a steadily meeting group for the past two years invaluable to improving my work and keeping me on track as a writer.
3) Create or Hire a Designer to Do Your Book Cover. With
CLAWS
, I worked with a graphic designer friend whom I've worked with on two previous book covers. I went to her with the initial concept, the mountain lion eyes embedded in black, and she came up with the font and design. A book cover should explain to a reader in a split second what the book is about; aim for iconic imagery and plan to use your cover in other forms of promotion like press releases and book trailers.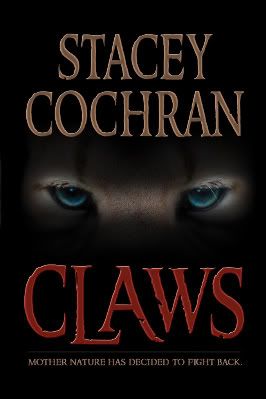 4) Create a book trailer. I designed a book trailer for CLAWS that has received over 100,000 views on
YouTube
.
While this alone won't sell a single copy, the name of the game is exposure and if tens of thousands of people are watching you, buddy, that's exactly what you want to promote your book. The keys to YouTube trailer success is: a) keep it short (mine's under twenty-five seconds), b) make it shocking and entertaining, c) avoid slickness and pretension. One of the most successful YouTube marketing campaigns in the past two years involved a blender company that did short "Will It Blend?" videos where they tossed cell phones, chunks of wood, children's toys, etc., into their blender to see what would get destroyed.
5) Blog Tour. Every writer working today can do a blog tour. It costs nothing, yet it gets your book seen by hundreds of people. All you have to do is ask people, agree to help them in some way, and stay organized. I think 30 or more days is essential to have meaningful exposure, but maybe two weeks is all you'll need. Find your comfort zone and stick to it.
6) Cover blurbs. No matter where you're at on the publishing totem pole, I guarantee you can find a handful of writers who are better known than you who will endorse your book. Sure, you'll get the occasional person who claims for "moral reasons" they can't blurb your book, but it only takes 2-3 good blurbs to convince readers that your book is worth checking out. For every ten rejections, you're likely to get at least one positive response. So plan accordingly and don't be shy about sending folks a copy of your book in the mail. It costs a little money to make a little money.
7) Design a website or blog and make it meaningful. I have two websites: staceycochran.com and
howtopublishabook.org
- the
StaceyCochran.com
site is where folks can find out info about me and my personal life. You can also see what book I'm currently promoting. The
howtopublishabook.org
site is where I give back to the community. This site has been visited by people from more than 120 countries around the world, regularly draws a couple thousand so-called "unique visitors" per month, and it's the place where I post interviews I've done with publishing professionals (agents, editors, authors, publicists, etc.). I designed the site around the phrase "How to Publish a Book" and it currently sits atop the
Google
page rankings for this phrase. A lot of people search this phrase every day on the Internet.
8) Give back and help others. I have built my career on the notion that what others have to say is more important than what I have to say. Through my TV show and through the more than 200 author events I've done the past three years, I have tried to give other people the spotlight. Part of this is by necessity but another part of it is that I truly believe that we are all better off by sharing the floor and giving others a chance to succeed. Many writers think that helping others somehow compromises their own chances at success. By and large, these writers never succeed. The more willing you are to help out folks, the more folks will want to help you out.
9) Start a TV Show. In this day and age, anyone can set up a camera in their house, record themselves, and put it on YouTube. If you've got a strong Public Access TV station in your town, you may even have access to multi-million dollar equipment. The first year of my TV show I interviewed mostly local self-published authors, but something happened in year two. Word got out to publishers. Since then I've interviewed seven #1 New York Times bestselling authors, and it's gotten my name circulated around every major publishing house in New York. Without a doubt, starting my own TV show (which began with a point-and-click 100-dollar digital camera) has given me the greatest boost of any one single thing I've done in my career.
10) Wash, rinse, repeat. If your current book tanks and you only sell a few dozen copies, don't worry. Go back to the drawing board, write a new book, and try to repeat all of the things you did well, while improving on the things you didn't do so well. No single attribute will serve you better as a writer than inner drive and persistence. Personally, I think if you're doing what you do for a purpose larger than yourself this will help to sustain you through the lean years.
Thanks so much, Anthony, for the opportunity to guest blog here today at The Writers Edge. And thanks so much for all that you do for writers in our community.